Featured Item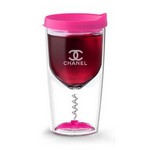 Vino Opener Cup
The Vino Opener has all the great benefits that you know and love from the Vino2Go. Now with an added 'Twist'. A handy corkscrew that easily pops in and out of the bottom of your vino. A truly versati...

Creating Circles of Expression
The Urban Circle is an integrated marketing company that utilizes multitude tools that include promotional merchandise, print collateral, packaging and creative concepts.
While we have the capability of selling these individually one of our greatest strengths is having the ability to combine all of these tools in a meaningful way to help effectively attract and retain clients.