Creating Circles of Expression
The Urban Circle is an integrated marketing company that utilizes multitude tools that include promotional merchandise, print collateral, packaging and creative concepts.
While we have the capability of selling these individually one of our greatest strengths is having the ability to combine all of these tools in a meaningful way to help effectively attract and retain clients.
Featured Item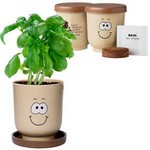 Goofy™ Grow Pot Eco Planter Set w/ Bas...
Made from reclaimed organic materials including bamboo and corn fiber, these adorable sets include a biodegradable planter with the stock Goofy™ face print on one side, a compressed soil wafer, and a ...
$2.18 - $2.48