Featured Item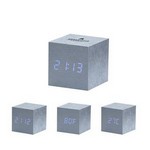 MoMA Alume Cube Clock
Designed by Natalie Sun, the Alume Cube Clock has a textured surface. Snap your fingers or tap the cube and the green LED display reveals the time, date and temperature and after a few seconds the dis...

Creating Circles of Expression
The Urban Circle is an integrated marketing company that utilizes multitude tools that include promotional merchandise, print collateral, packaging and creative concepts.
While we have the capability of selling these individually one of our greatest strengths is having the ability to combine all of these tools in a meaningful way to help effectively attract and retain clients.